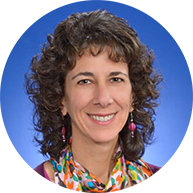 Laura Nisenbaum, PhD, is a proven scientific leader with 30 years of biotechnology industry and academia experience. As Executive Director of Drug Development at the ADDF, she oversees the Scientific Affairs, Biomarker Development, and Aging and Alzheimer's Prevention teams.
Most recently, Dr. Nisenbaum served as Senior Director of Aducanumab Biomarkers and Diagnostic Pathways at Biogen, where she led the biomarker strategy for Aducanumab, as well as the Diagnostics Pathway group within the Biomarker Organization.
Her time at Biogen followed 20 years of experience at Eli Lilly and Company where she served as Asset Manager for Chorus, an autonomous early-phase clinical development organization within Lilly. Dr. Nisenbaum also served as Research Fellow and neuroscience lead in tailored therapeutics, translational medicine, and preclinical drug discovery. 
Prior to joining the biotechnology field, Dr. Nisenbaum received a Fulbright Scholarship to study in Cologne, Germany. She then completed her PhD in neuroscience in 1991 at the University of Pittsburgh and transitioned to industry after completing postdoctoral training at the National Institutes of Health (NIH), the University of Tennessee College of Medicine, and a faculty position in Physiology and Neurobiology at the University of Connecticut.
Throughout her career, Dr. Nisenbaum has contributed to the discovery and development of more than 15 novel therapeutics, bringing three molecules for FDA approval. She has also authored over 35 publications in peer-reviewed scientific journals.