From Cure to Care: Unleashing the Potential of Global Wellcare
The progression of healthcare innovation stands as a testament to human ingenuity. Are we ready to take on the challenge of bringing these technologies to the next level?
– Guest post by Susanna Harris, PhD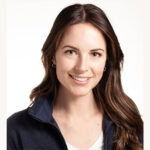 Since the time of hunters and gatherers, humans have worked to improve their quality of life by fighting disease, and modern medicine has been designed around this aim. The first institutionalized healthcare facilities were built thousands of years ago, creating dedicated places for providers to heal the sick. The first pharmaceutical medicines were invented 200 years ago, equipping doctors with isolated compounds to treat diseases. The first recombinant DNA technology was pioneered nearly 50 years ago, birthing the entire field of biotechnology to harness the power of biology for developing cures for illnesses believed to be incurable.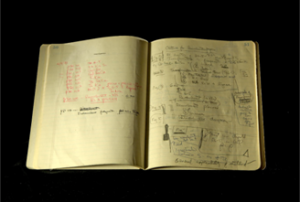 Stanley Cohen's DNA research notebook, housed by the National Museum of American History, gives us a peek into the engineering of the pSC101 plasmid, a technology that would launch the field of biotechnology.
Today, a new ideology is poised to revolutionize healthcare by anticipating and preventing human health issues, rather than waiting to fight them: Wellcare.
Although there were no sessions expressly dedicated to the topic, I first heard about the Wellcare movement at BioFuture last year. Frustrated with our sector's focus on reactivity, scientists and doctors brought up the dream of shifting from expanding Sickcare to creating Wellcare. The conversations challenged attendees to imagine a world where humans could live longer and better lives before they became sick, and it didn't take long for even the most skeptical audience members to feel the excitement. From sessions like "Aging & Longevity: Are Health Systems Ready for the Tsunami" to "Vision, Grit and the Impulse to Innovate; a discussion with Raphael Rakowski," the vision for reshaping our landscape steadily came into focus.
An even bigger question quickly arose: how can we build this Wellcare system… for all? Could we ensure that our practices would serve not only the wealthy and powerful, but would reach communities who have historically been ignored and disenfranchised? The panel I hosted on "Clinical Trials: An Evolving Force for Inclusion & Access 2030," indicated that our answer is yes, as long as we're ready to put in the energy and resources to match our words.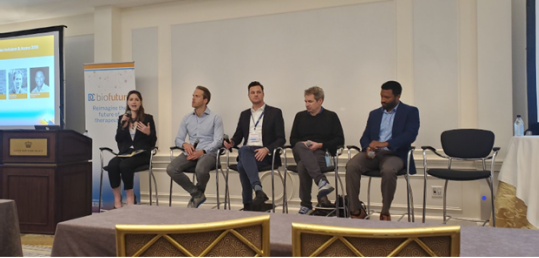 The "Clinical Trials: An Evolving Force for Inclusion & Access 2030" panel at BioFuture 2022. Speakers, from left to right: Dr. Susanna Harris, Dr. Derk Arts, Jason Baumgartner, Chris Benko, Dr. Del Smith.
So, what would a healthy world look like without these roadblocks? Discussions last year helped us envision a seamlessly interconnected healthcare system where:
Accessibility is a Right, Not a Privilege: With a focus on supporting needs rather than chasing financial rewards, bringing in stakeholders of all backgrounds would allow us to build distribution channels to be more efficient and equitable, regardless of socio-economic status.
Innovation is Encouraged, Not Suppressed: Removing restrictive price controls while providing incentives for generic development would stimulate creativity and investment, leading to a continual flow of novel solutions.
Collaboration Over Competition: A cohesive global network structure would mean less fragmentation and more cooperation between companies and countries, resulting in more uniform health outcomes.
Prevention Takes Center Stage: Focusing on Wellcare rather than sickcare would promote a preventative approach, utilizing the incredible tools we already possess to keep populations healthy rather than merely treating them when ill.
The theme of Wellcare will be emphasized at the upcoming BioFuture 2023, where attendees will be encouraged to openly brainstorm on driving the progress of this revolution. Representatives from research centers, hospitals, and companies will provide insights into their approaches to Wellcare and how we can shift from reactive sickcare even as costs pose a significant challenge.
When asked about their company's vision, Michael Dowling, President & CEO, Northwell Health says, "Our focus is on keeping people well and managing their health, not just treating them when they are sick or injured. Healthcare organizations have to redefine what we mean by health. The technologies of diagnosis and treatment have grown tremendously, but the future of health care is about guiding and engaging consumers in a very different way. A big part of the effort for progressive health systems in the future will be going upstream to try to educate people about how to prevent themselves from making decisions to enhance their ill health."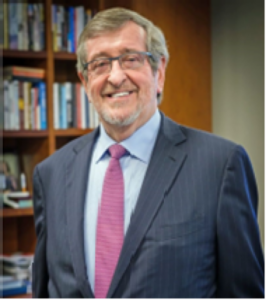 Michael Dowling, President & CEO, Northwell Health
The dynamic environment of BioFuture allows attendees from diverse backgrounds to converge and focus their energy on transforming our global healthcare system from one of scarcity to one of abundance. This great undertaking is daunting, but the collective intelligence of our community can identify and create the resources to do it.
The cures, the treatments, and the technology are all within our grasp. While innovating in science is difficult, especially when we hold ourselves to our highest standards, we must be brave enough to pursue daring objectives. As we look forward to BioFuture, I'm excited to embrace this opportunity to build bridges, foster collaboration, and continue this vital work. I know we're ready for the challenge. See you there!
Be Part of the Change
The BioFuture Conference provides a unique platform allowing innovators and investors to come together to shape the future of healthcare. To join the exciting and ongoing dialogue, make sure to register soon for the 2023 event on October 4-6 in New York City. Stay updated on the latest healthcare conference announcements and developments by joining BioFuture's mailing list or following the event on LinkedIn and Twitter. Welcome to the future of healthcare!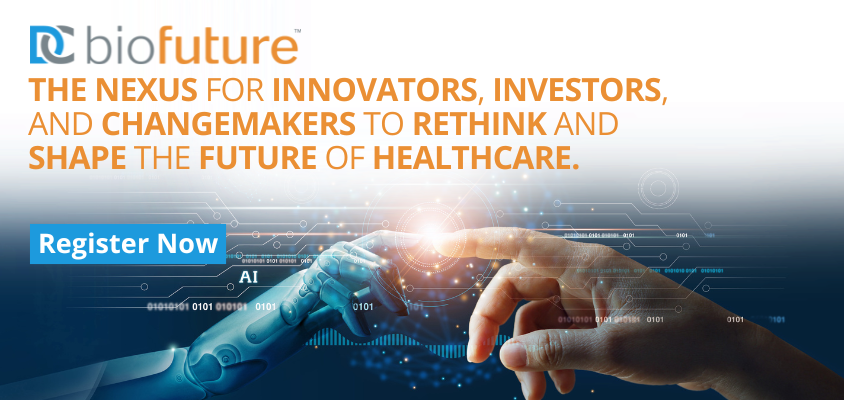 Disclosure: This is part of a short series of opinion pieces by Dr. Susanna Harris about the topics and themes highlighted at BioFuture Conferences. To show our appreciation for her writing efforts, Demy-Colton will be financially supporting the author in attending the 2023 BioFuture Conference.