The safety of BioFuture attendees is Demy-Colton's top priority. Therefore, all attendees are required to provide proof of COVID-19 vaccination. Vaccine proof can be submitted here. Individuals who are not vaccinated, even for religious or medical reasons, will not be allowed to attend the event.
Masks will be provided at registration.

Challenge current wisdom

Debate new trends

Discover new frontiers
More than 100 High-Profile Speakers Confirmed!
Top innovators, investors and business leaders come together to participate in discussions that will shape and transform the future of healthcare.
Exclusive Event Preview: Speaker Insights & Predictions
Get a preview of the impactful discussions that will take place at the event with this free download featuring insights and predictions from some of today's leading game-changers!
New York City | October 5-6, 2021
Experience BioFuture

 2021
Participate in candid, unfiltered discussions. Explore the exciting mashup between rapidly evolving fields including biopharma, digital medicine, big data, AI, healthcare systems, payors and more. The coming decade is poised to dramatically accelerate the transformation of the healthcare ecosystem. Be a part of the discussion at BioFuture.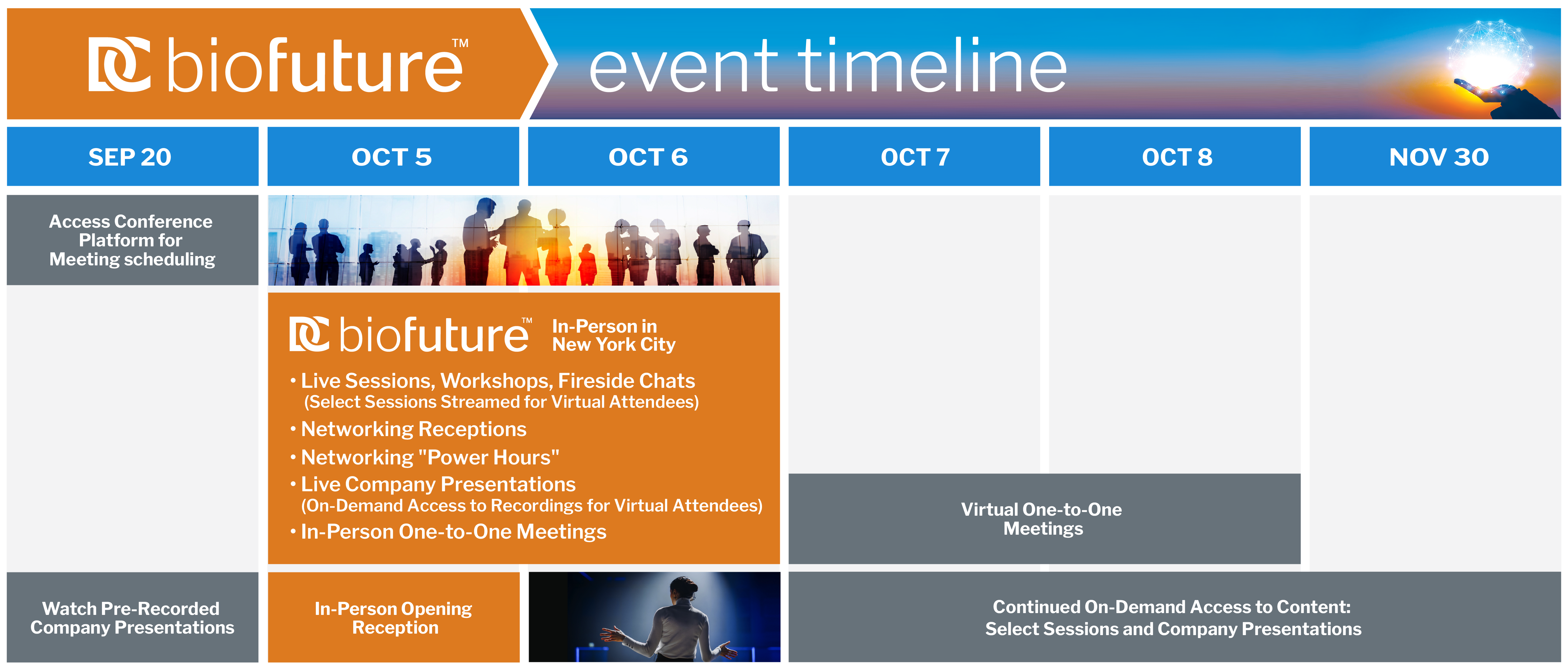 Advisory Board
The biopharma, digital health and healthcare sectors are undergoing profound change. BioFutureTM is a must-attend conference for anyone who wants to harness the evolution in the life sciences sector and its ultimate impact on healthcare. You will hear raw debate and unfiltered comments about the future of this industry from key influencers.Tim Opler, Partner & Co-Founder, Torreya

At the heart of BioFutureTM is our commitment to the expanding ecosystem of stakeholders - from biotech, to tech, pharma, service providers, patients and the financial community. We are all working together to foster cross-collaboration and investment to develop innovative new treatments faster, and ultimately improve healthcare outcomes for all.Sara Demy, CEO & Founder, Demy-Colton

This is a must-attend conference with its unique focus on the future that seeks to spark inspiration and promote further growth and innovation in the life sciences industry.Art Pappas, Founder & Managing Partner, Pappas Capital

If we are to challenge the hype and encourage the hope when it comes to the future of healthcare, we will need an honest discussion among scientists, industry leaders, patients and policymakers. This forum, with its steadfast dedication to a clear view of life science's future, promises to be unlike any other in the space. See you there.Jeremy A. Abbate, VP & Publisher, Scientific American

The healthcare industry is on the edge of a major transformation that will affect all stakeholders. Get inspired by actionable insights from today's innovative life science leaders and tomorrow's most disruptive digital health tech innovators – to make the right partnership and investment decisions.Dennis Purcell, Founder & Senior Advisor, Aisling Capital

Healthcare is at the intersection of a digital and tech evolution, and BioFutureTM will cover the most pressing topics in the industry ranging from disruptive digital technologies, to how AI and machine learning are enabling better healthcare outcomes, and how real-time data collection can empower patients and providers.Kimberly Ha, CEO & Founder, KKH Advisors
Keep me informed of this event